« Back to main blog page
---
The Unpredictable Wind
By
Scott Bader-Saye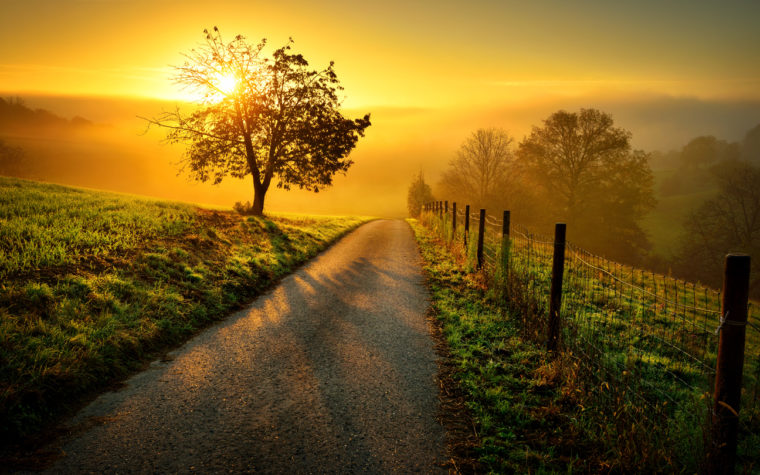 ---
Dear Graduates,
This is a season in the seminary's life when we do a lot of sending. We are sending off the Rev. Melanie Jones, our Black Religious Scholars Group Crump Visiting Professor, who is taking a position at Union Presbyterian Seminary in Richmond, Virginia. We are sending off our much-loved Rev. Dave Scheider, director of the Louise Henderson Wessendorff Center. We are sending junior and middler students off to CPE, cross-cultural ministry, internships, and practicums. And we are sending you, our graduates, to preach and teach, counsel and consecrate, support and direct.
For many of you, when you arrived, the conversation was all about your calling. Now, it is about your sending.
As a parent, I have experienced sendings of my own. I have teenagers who have been or will be sent off – whether to college or to some other adventure. And like many Gen. Xers who are sending off our Gen. Z kids, we find sometimes that our sending is less like shooting an arrow and more like tossing a boomerang. They come back. Sending is a process: it doesn't happen only once.
In John's gospel, Jesus speaks of being sent: "Whoever believes in me believes not in me but in him who sent me," and "whoever sees me sees him who sent me" (John 12:44–45). His sending is incarnational: he is one with the one who sent him. For the rest of us, our sending is not incarnational but iconic – we are invited to become windows opening to the God who sent us.
We can be this not because we are so holy but because every sending is preceded by an outpouring of God's presence. The incarnation of God in one human form disperses by the Spirit into many human forms. By the work of the Spirit, you are and are becoming icons through whom God will be present to others.
God's sending is iconic. God's sending is also unpredictable.
To be sent by the Spirit is to be drawn into a story whose next chapter is known only to God. Jesus tells his disciples, "The wind blows where it chooses, and you hear the sound of it, but you do not know where it comes from or where it goes. So it is with everyone who is born of the Spirit" (John 3:8).
Don't expect your sending to happen in a straight line. If you are attentive to the Spirit, you will be more like a leaf blowing in the wind than a stream that runs always between its banks. If you pay attention to the sending of the disciples in the Acts, you will discover that we are not necessarily sent to those we would expect or even desire to be with. Which is why the Spirit has to reshape our desire to include those whom we intuitively experience as unclean, unworthy, morally compromised, unjust, and, sometimes, unhinged.
Just as Peter is sent to Cornelius and Philip to the Ethiopian eunuch, your sendings will also be unpredictable. But remember, as you are sent, that you are not bringing God with you to places God has never been. Like Peter and Philip, you are sent to carry on, to gather up, to name the ways that the Spirit is already at work among those whom you will meet.
You are called and sent. You are being made icons of God's presence. This transformation into the image of Christ is an ongoing work of God in you. Open yourselves to this work.
You are called and sent. You are filled with the Spirit, who is "a wind that blows where it chooses." Be ready to be surprised by the unpredictable places you will be led.
Thanks be to God that we are a people who get to ride the joyful wind of the Spirit.
Peace,
Scott
---
Dr. Scott Bader-Saye joined the seminary faculty as the Helen and Everett H. Jones Chair in Christian Ethics and Moral Theology in 2009 and has served as academic dean since 2013.
His current research centers on theological readings of gender and transgender. Other research interests include economy, sexuality, political theology, virtue ethics, and interfaith dialogue. He teaches the core Theological Ethics courses for all degree programs. He is author of Formed by Love (2017), Following Jesus in a Culture of Fear (2007), and Church and Israel After Christendom (1999/2005). He has contributed to The Blackwell Companion to Christian Ethics (2006) and The Cambridge Companion to the Gospels (2006) and has published widely in theological journals and magazines.
Dr. Bader-Saye helped found and lead Peacemeal, a missional Episcopal community in Scranton, PA, served on the Episcopal Church Executive Council Economic Justice Loan Committee, currently serves on the Gathering of Leaders Steering Committee, and is active as a teacher and parishioner at St. Julian of Norwich Episcopal Church, a mission in northwest Austin.
---
Tags:
#mySSW
Advent Meditations and Prayers 2014
advent meditations and prayers 2015
Advent Meditations and Prayers 2016
Advent Meditations and Prayers 2017
Advent Meditations and Prayers 2018
Advent Meditations and Prayers 2019
advice
Al Rodriguez
Anthony Baker
Awa Jangha
Christian formation
Claire Colombo
community
Cynthia Briggs Kittredge
Dan Joslyn-Siemiatkoski
Dave Scheider
discipleship
Friday Fun Photo
GC2012
Gena Minnix
Greg Garrett
Haiti Project
Holy Land
Jane Patterson
John Hines Day
Kathleen Russell
Kellaura Johnson
Lent
Micah Jackson
mission
Nathan Jennings
presiding bishop
relationship
Scott Bader-Saye
Seminary of the Southwest Dean and President
Sermons
social justice
Southwest Six
Staying Cool in Austin
Steve Bishop
Steven Bishop
Steven Tomlinson
Tweet of the Day
Twelve Days of Christmas